29 Mar

Message From The Board Of Directors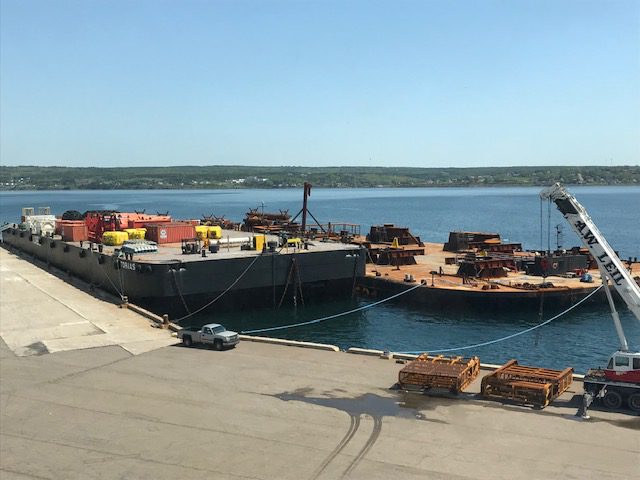 The Strait of Canso Superport Corporation continues to dedicate a great deal of effort to attract business opportunities to the Strait Region to help keep the local economy vibrant. There is no doubt that 2020 was a trying year for Strait Area business and we are all hoping for a better 2021.
Despite the challenges presented by the Covid-19 Pandemic, the Superport Corporation was able to utilize its common user facilities to generate economic activity in the Port. Through strategic marketing & promotion, the Superport Corporation was able to convince Heerema Marine Contractors to utilize the Port for its contract on the decommissioning of the Sable Offshore Energy Project.
Activity associated with this decommissioning work highlighted the attributes of the Strait of Canso to the global marine community. Bram Quak, Project Manager, Heerema Marine Contractors offered solid reasons why his firm chose the Strait Region to support their project:
"The Chedabucto Bay area forms a perfect sheltered location with more than sufficient draft for our backloading activities and the nearby quay side facilities of Mulgrave Marine Terminal are perfectly suited to support the Project," said Quak. He added that, "The local professionals involved are very responsive and service-minded and with their proactive attitude, we ere able to make it all happen in a safe and controlled manner. So it is an ideal location to support offshore related activities." Quak Said, "We have very positive experiences with how all parties work together in the area with a real can-do attitude and that is exactly what we needed."
The Mulgrave Marine Terminal and the Port Hawkesbury Pier, common user facilities are key pieces of infrastructure to attract marine clients and generate business opportunities for the broader Strait Area business community. Clients such as Clearwater, Cabot Gypsum, McKeil Marine and Canadian Salt are regular users of the Mulgrave Marine Terminal. Combined, these businesses provide thousands of manhours of employment for local residents and valuable contracts for local businesses.
The Strait of Canso Superport Corporation looks forward to working with the Town of Port Hawkesbury on their waterfront development and examining how the Port Hawkesbury Pier can be utilized to compliment the proposed development.
With respect to the overall Port, there is still much to be done. Over the years mega projects have been contemplated but haven't materialized. The Sable Fractionation Plant has been dismantled and Georgia Pacific has ceased shipping activities at its Point Tupper facility. Climate change initiatives are signaling the end of coal fired generating stations with near term implications for the Point Tupper generation station.
The status quo is not working for the Port.
Its time for stakeholders to come together and become masters of our own destiny. Its time to establish a governance structure for the Strait of Canso Port.